Standard processes
HL6 Hunkeler Laser
Hunkeler presented an innovative, patented laser process for safety punching and perforation. The areas of applications include the production of checks, coupons and direct mail pieces where the dynamic stamping of distinct individual shapes for safety characteristics or any arbitrary dynamic perforation pattern is required. The laser module works with an until now unheard of speed of up to 150 meters per minute, in 1-up or 2-up mode and can be integrated into all Hunkeler configurations.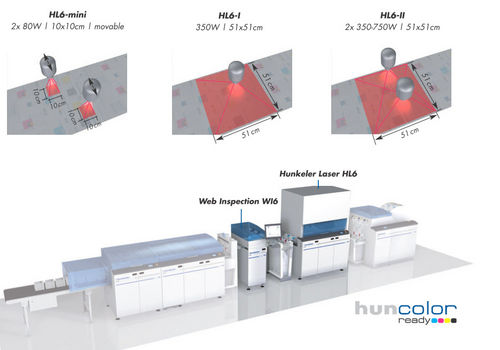 WI6 Web Inspection System
The Web Inspection System helps to guarantee error-free documents. The integrity of printed variable data is permanently monitored. Bad products can automatically be diverted and missing documents reprinted.
The Web Inspection System can read document identification marks which allows a fully automated operation without manual supervision or adjustments. A user-friendly interface enables the operator to define different job templates which are automatically selected by the Web Inspection System. The Web Inspection System is available in simplex or duplex configuration and can run from 1-up to 4-up productions without reconfiguration.